Dear Friends,
Céline will be concerting in Las Vegas from March 2003 till the next 3 years. Since Tatiana and I will be going to this so awaited time by the very first weeks, we´d like you to come along. Howcome? Well, we´re doing a book on which will be handed in to Céline Dion and you can also be part of it.
At The Family Book you´ll be able to have your own message to her.
Every fan will be able to write a letter no bigger than a Letter paper format (216mm x 279mm), this will be the size of our book. And also, will have the right to send us a 3x4cm picture, on which will be published in our book as a Fan Profile. This next image shows you a sample of the page´s looking.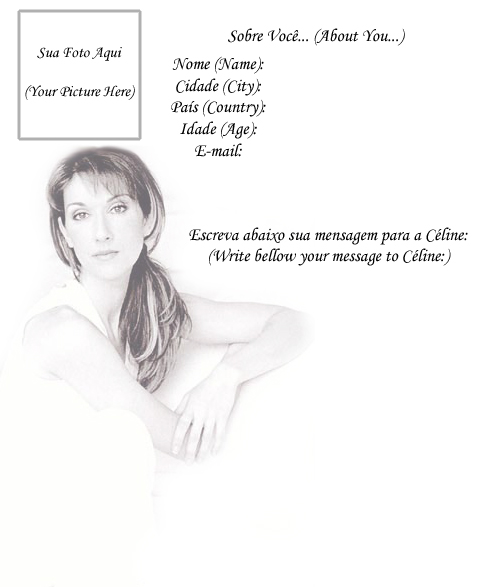 WARNING: There´s space limit. Please, don´t go longer than one page, as we asked. The standard letter is Times New Roman Size 12. And Every message will have no more than 300 words.
This book will be given as a Birthday Gift to our Céline. We are doing this project as we want to give to Céline something every original, from all her fans. And then, our book will not be a Fan Book but a "Family Book". :)
Send your messages by email to: estevam@celinedion.com.br or tdovale@celinedion.com.br
If you don´t have scanner, send us eventhough, will give you our addresses and you´ll be able to send us by regular mail :)
Since the book will be professionally printed, we thought of doing something even cooler. We want you to be part of this project down deep. We have decided to make a contest, so that you can create the cover page for the book. The very best one will be printed and the winner will get free prizes sent by the CDA / Feelings strenghtly to our site.
Our team wishes you very good luck! And we´d like to freeze that anyone of us will be competing on the Contest.
Thank you sooo very much!!!!!
The Céline Fall Team!
www.celinedion.com.br